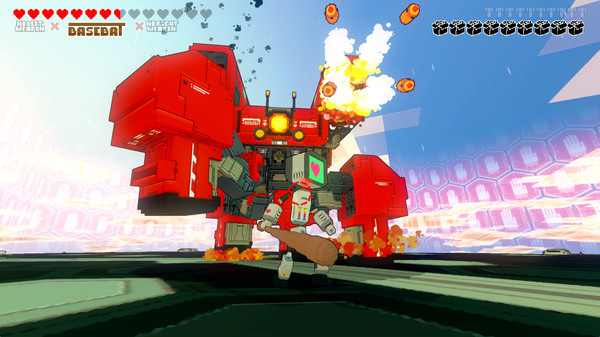 Hack-n-slash action gets a sci-fi upgrade in Heart & Slash, a fast-paced roguelite brawler being ported to the Switch this year.
As the titular machine Heart, you must fight through the powerful enemies and bosses that await in a randomly-generated facility, all in an attempt to gain the affection of fellow robot Slash.
That quest won't be an easy one, but thankfully, you have dozens of weapons and body parts to mix and match, each one offering unique moves and abilities. Able to equip three weapons at a time, switching between them on the fly lets you create complex combos with daggers, hammers, swords, bats, guns, and other more diverse weapons like an electric guitar. Juggles, air attacks, special moves, and precise evasion are part of your moveset in Heart & Slash.
Your body can be customized with different heads, bodies, arms, and legs; these also provide different buffs and powers, from lock-on missile barrages unleashed from your rocket head to slow motion and energy shields.
Heart & Slash is slated to release sometime in December. You can also currently find the game on Steam.