New Releases
[Update: Out on iOS] Never Alone brings wintry platforming and Inuit folklore to iOS and Android next month
Enjoy a winter wonderland this summer
Update on June 2nd at 16:49
: Never Alone: Ki Edition is now out on iOS and should release soon on Android. It was planned for release on June 23rd but the App Store's weird like that.
You can enjoy this beautiful and unique experience for £3.99. MFi controllers are supported for those who prefer physical controls.
[Source]
---
Never Alone follows a young Iñupiaq girl Nuna and her arctic fox companion through a platforming adventure influenced by Inuit folklore, coming to mobile on June 23rd.
Original released on PC and consoles in 2014, Never Alone takes you through a journey across the Alaskan wilderness, where polar bears and spiritual forces roam.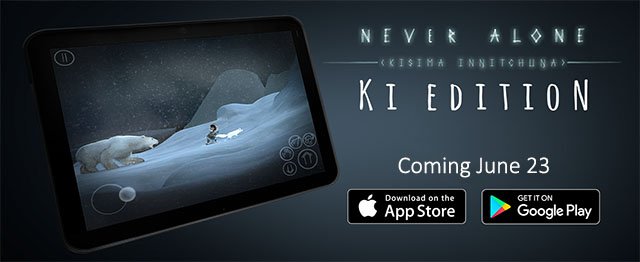 You switch between Nuna and her fox as you solve puzzles, climb, and leap through atmospheric landscape. unlocking videos about the Inuit culture and people as you play.
Never Alone will be available on iTunes and Google Play on June 23rd.